This week we replaced the hot water immersion for an apartment in Dublin 7. Read more to learn about our commitment to providing quality service.
The Story.
This is a hot water cylinder in a rented apartment in Drumcondra, Dublin 7 that started leaking during the week. The landlord called and asked us to call out and investigate what the problem might be. This turned out that the leak coming from the bottom side immersion. Over time the immersion corroded from inside the cylinder and started to leak out into the electrical wiring inside the body of the immersion where the thermostat is.
This cylinder is what's known as an ESB cylinder, meaning that the only means of heating the water is via two top and bottom electric immersions fitted on the side of the cylinder. No gas heating goes through these cylinders. The top immersion works off a boost button on the immersion switch and the bottom one works off a timer or a night energy saver immersion switch. The bottom immersion element is normally the first one to go as its the one used the most.
In order to change the bottom immersion the entire hot water cylinder has to be drained down. This can take a long time, generally around an hour. There should be a drain cock on the pipework at the base of the cylinder but on this cylinder there was no drain cock. Because of this, we had to siphon out the water using flexible plastic pipework through the top of the cylinder. The water was then drained into the toilet in the adjacent bathroom.
Once the cylinder was drained, swapping out the immersion was straight forward and took about 20 minutes. Refilling it took about 10 to 15 minutes. We then tested it for any leaks.
Check out the pictures attached to this plumber Dublin blog post and see the difference between the old immersion and the new one we installed.
Old cylinders like this one are common in Drumcondra and we carry a lot of spare parts like top and side entry immersions. Its a very common plumbing problem and important to recognise the symptoms early before it can cause significant water damage.
Replacing the Hot Water Immersion Cylinder.
Before
–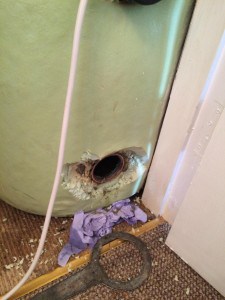 After
If you have any questions or comments on this post about our 24-hour service, or any other post on the Dublin Plumber Blog, give us a call on 01 675 0941.