This week, the Dublin Area Plumbers team installed a balancing valve on a hot water cylinder and replaced a Triton T90 shower that burst its seals.
Hot Water Cylinder
A radiator on a gas central heating system in a house in Blackrock South Dublin would not heat fully. We were told that the it never really worked properly ever since it was installed. The reason for this was because a balancing valve was never fit on the hot water cylinder during the initial heating system installation.
We drained down the heating system at first floor level, installed a 3/4″ gate valve and refilled the system. We were then able to run the gas heating system and throttle down the newly fit valve. By doing this the hot water circulating in the gas central heating pipework slowed down through the hot water cylinder and spread out to the rads more evenly.
The problematic rad that wouldn't heat properly suddenly sprung to life. For the first time since it was installed 15 years age it heated up to its full capacity.
Replacing Faulty Showers
We got a call from a landlord to a house in Eastwall Dublin 3. An old Triton T90 shower burst its seals because a pump had been fitted to the water supply.
Triton T90s only work on gravity pressure and should never be connected to mains water or a pump like this one. After some water pressure testing we worked out that a Triton T80 was the correct shower for this installations. Triton T80s are mains fed showers, they require at least 8 litres of water per minute at 1 bar pressure.
The pump that had been fitted before we arrived gave us 10 litres per minute, which is perfect for a T80 but would burst every seal on a Triton T90.
Lime Scale Build Up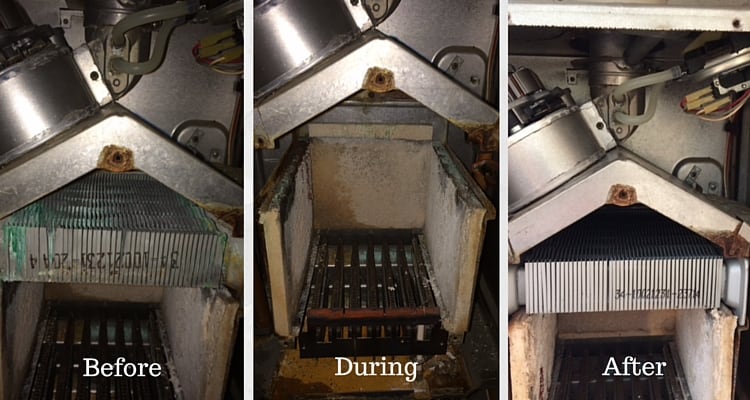 Gas boiler maintenance in Dublin is a very big part of our business. We got a call to a house in Balbriggan North County Dublin during the week to a gas boiler that kept cutting out after only a minute of making terrible banging noises.
There are a number of causes for this symptom called kettling. In this particular case the heat exchanger was blocked with lime scale build up. This meant that water was unable to circulate through the gas boiler and boiled over like a kettle causing banging sounds. We installed a new heat exchanger and got the gas boiler up and running perfectly once more.
Gas boiler maintenance in Dublin is one of our favourite things to do. There is great job satisfaction in getting a boiler going again and feeling rads heat up after a boiler has decided to pack up.