This week, the Dublin Area Plumbers team removed a booster pump, replaced a cracked wash hand basin and replaced an electric shower.
Booster Pump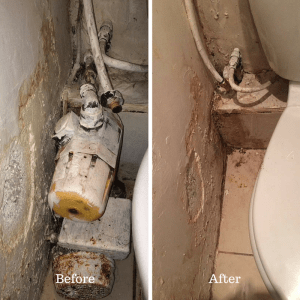 This is a mains booster pump in a rental property in Ringsend Dublin 4 that hadn't worked for years.
Although it wasn't working it was still left in position which was right beside a toilet. It eventually started to leak and cause damp to appear on the adjacent wall.
Dublin Area Plumbers where eventually called to sort it out. The only thing to do was completely remove it and reconnect the pipework directly to the mains again. The wall will have to dry out before any redecorating is done.
Cracked Wash Hand Basin
In Knocklyon Dublin 16 a customer inherited a cracked wash hand basin from the previous home owners.
The waste pipe was badly blocked too but the trap was inaccessible due to the semi pedestal being siliconed to the wall and unable to be removed. We were able to remove the complete unit without breaking any tiles and installed a wash hand basin with a storage cabinet beneath.
When the original basin was removed we were able to unblock the waste pipe and refit it to the new one. This wash hand basin with cabinet beneath came it's new mixer taps and a spring loaded waste.
Electric Shower Replacement
Also in Knocklyon Dublin 16 this electric shower had stopped working. The simple solution was to replace it.
We replaced it with a similar model Triton T90 which meant we could use the original screw holes, so no unsightly holes were left in the tiles when we finished.
The customer opted for a white shower casing but the Triton T90 electric shower is still available in a chrome finish. With a new shower comes a new shower head, hose and shower rail.