A look at what the Dublin Area Plumbers team got up to this week, including the installation of thermostatic radiator valves and a high efficiency gas boiler.
Thermostatic Radiator Valves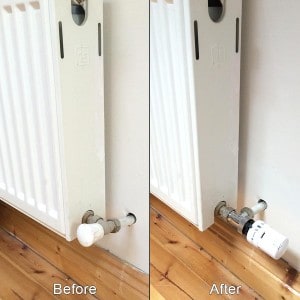 In Lusk County Dublin this week we replaced all the rad valves around a house with thermostatic radiator valves (TRV's) 14 in all and pressurised the heating system. The original rad valves were the standard on/off type that have limited control over the heat in the room.
With TRV's the the temperature can be regulated in each individual room. A TRV will allow heat into the radiator until the room has reached the required temperature and then turn off. The rad will not turn on again until the room has dropped below the temperature the TRV is set at. DublinAreaPlumbers highly recommended thermostatic radiator valves.
Gas Boiler Breakdown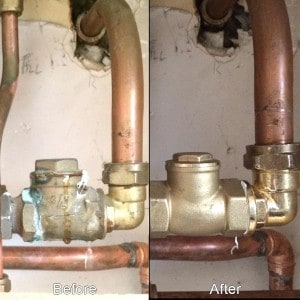 We got a call to a gas boiler breakdown in Blanchardstown Dublin 15. The pressure had dropped in the heating system with meant the gas boiler wouldn't fire.
The cause of the water pressure drop in the heating system was a leak from a non return valve above the boiler. We had to drain the the heating system to remove the leaking NRV and fit a new one. This leak happened due wear and tear and is not uncommon.
If it happens to your heating system do not worry about it, give Dublin Area Plumbers a call and we'll sort it out for you.
High Efficiency Gas Boiler
We fit a new high efficiency gas boiler in Castleknock Dublin 15 this week. Most modern gas boilers only work on 1 bar minimum water pressure, so very often we have to pressurise the heating system the gas boiler is linked to.
The heating system had to be drained and the old expansion tank disconnected. An automatic air vent was fitted on the expansion pipe to allow any air trapped in the system release with ease. Mains water was connected directly to the cold water feed to the heating system.
We installed an automatic filler valve with a pressure gauge and set the pressure at 1.5 bar. Water pressure differs all over Dublin, so auto fill valves are a great way of keeping steady and controllable water pressure inside your heating system.