A look at what the Dublin Area Plumbers team got up to this week, including a warning about cowboy plumbers, the installation of towel warmers and the replacement of a kitchen sink tap and a toilet siphon.
Cowboy Plumbers
Beware of cowboy plumbers! There are a lot of them out there. This poor unfortunate customer had one of these guys install waste pipes in his cafe in Dublin 2. The only problem was that this guy who called himself a plumber failed to use glue on most of the fittings. It was only a matter of time before the inevitable happened and water started to flow out from under the floor.
The grey discolouration on the end of the pipes is a clear sign that hot waste water seeped in and around the fittings where glue should have been. The pipe ends were cut unevenly by the original "plumber" which meant that the pipes did not sit fully into the fittings which made it easier for water to escape.
We repaired the pipework where necessary and tested everything before putting back the floor boards.
Make sure your plumber comes recommend and with references. See our testimonials to find out more about us and our quality of work.
Toilet Handle & Siphon
A restaurant in Dublin 2 had a problem with a customer toilet this week. The flush handle had broken and the internal siphon wasn't functioning properly.
This toilet had a concealed cistern fitted behind a wall. Extended flush handles are used on concealed toilet cisterns. They fit through the finished wall and into the cistern, it then connects with the siphon which when pulled causes the toilet to flush. We fit a new extended flush handle and internal siphon.
Luckily there was a shut off valve just beneath cistern so we didn't have to turn the cold water off to the whole restaurant in order to carry out the work. Another "out of order" sign happily removed by staff.
Towel Warmers
In Adamstown Co. Dublin, we removed a standard convector radiator that was installed by builders when the house was built. Like in most housing developments standard radiators are used.
This customer wanted his bathroom rads removed and towel warmers installed in their place. Towel warmers are a relatively inexpensive way to freshen up and modernise the look of your bathroom. Towel warmers are designed to warm towels not rooms so it's important to instal one big enough to do both jobs.
Ask your plumber to calculate the rooms heat requirements and make sure your towel warmer is big enough.
Kitchen Sink Tap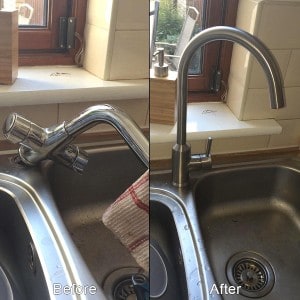 This kitchen sink tap in Blackrock had seen its day for while before we got a call to come out and sort it out. The fixing bolts had come loose and fallen off and were missing, the hot side had gotten stiff and hard to open.
The customer bought her own sink tap from a local supplier so we installed it on the same day.