This week, the Dublin Area Plumbers team repaired a bath / shower mixer tap, fixed a toilet cistern, and removed an outside toilet and wash hand basin.
Cracked Toilet Cistern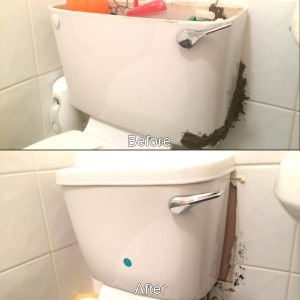 A cracked toilet cistern in a rental property in Blanchardstown Dublin 15 required attention earlier in the week. The tenant tried a temporary fix with some putty as you can see in the pictures.
The toilet was a good 15 years old and the cistern had long since been discontinued. Modern toilets do not hold as much water as older toilets and as a result are smaller. The updated model of this toilet has a smaller capacity cistern which when installed exposed a gap in the tiles.
A way to avoid this happening is to have have your toilet removed during a tiling job so that tiles can be fit behind and beneath the toilet. This prevents tiles having to be patched up if your toilet or cistern every needs to be replaced.
Bath / Shower Mixer Tap
This was an emergency call out to Balbriggan on Sunday morning. The bath/shower mixer tap had seized up which meant the shower was out of action until we got there. Even though it was a Sunday morning we were still able to get the bath/shower mixer tap working again.
We carry a wide range spare parts and fittings in our vans to insure we have just what you need to get you up and running again. Or in this case up and showering. We arrived on site within an hour of the call, the existing seized bath/shower mixer tap spindles and heads were removed and replaced with brand new standard twist type spindles and heads.
Outside Toilet and Wash Hand Basin
An outside toilet in Cabra North Dublin 7 is no more after we got a call to remove the old toilet and wash hand basin.
This outhouse hadn't been used in years and was leaking very badly. With the toiled and wash hand basin removed, there is now plenty of room for a washing machine and drier, or a utility room sink.
We fit water and waste connections so that whatever the customer decides to do with it all the first fix plumbing is already done.