A look at what the Dublin Area Plumbers team got up to this week, including the replacement of a shower valve and a flush handle for a toilet.
Shower Valve Replacement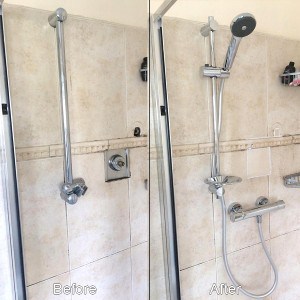 This is a shower valve we replaced in Rathmines Dublin 6. The old valve was installed with concealed pipework within the wall which made it difficult to remove. We got it out in the end without having to break any tiles.
We were able to fit a new thermostatic bar shower mixer valve straight through the wall, again without damaging tiles as the hot press with hot and cold pipework was directly behind the wall.
We patched up the hole in the wall left behind by the original shower valve with a tile closest in colour to the existing tiles and sealed it all up with a high grade silicone.
A new shower rail, hose and head came with the new thermostatic shower which we fitted in the same location as the original. It turned out very well in the end and our customer was very happy to be showering once more.
Toilet Flush Handle
We were called to an office in Clonshaugh Business Park earlier in the week to replace a flush handle on a staff toilet that had broken off after years of use. One of the guys in the office attempted a do it yourself repair which didn't turn out too well as the ball valve was damaged in the process. A piece of metal had been used to hold up the ball valve and stop the toilet from overflowing until we arrived.
We applaud anyone who attempts a bit of DIY plumbing but sometimes it's best left to the professionals. We fit a new side flush handle and a new space saving and silent cistern filler valve, so no more running water noises when the toilet is flushed. This company was delighted to finally remove that OUT OF ORDER sign off the ladies staff toilet door.