A look back at some of the plumbing and heating service and repair work carried out by Dublin Area Plumbers over the months of March and April 2018.
A gas boiler breakdown call in Walkinstown Dublin 10
A man in Walkinstown went online and searched "gas boiler repairs Dublin" found Dublin Area Plumbers and gave us a call. He was having trouble with his boiler in Walkinstown and said it only worked intermittently. Intermittent problems are always more difficult to diagnose. When I got there he said that the last time he got it serviced was 18 months ago by a well known Dublin plumbing company that won't be named here. When I opened the gas boiler cover I was shocked by what I found. Extremely hot exhaust gasses had been escaping from the burner chamber through the electrode seal kit and had burned through the spark electrode lead. This meant that every time the boiler tried to fire it sparked outside the burner chamber. Couple that with the escaping gasses from the burner chamber and you have a potential disaster on your hands.
This boiler was in such bad condition it was shut down immediately and a notice of hazard issued. Even though the last Dublin gas boiler service company claimed to have serviced it only 18 months previously, there is no way the boiler casing was taken off and a visual inspection of the inside of the boiler carried out in years.
New parts had to be ordered and were installed a few days later, a full gas boiler service was also carried out. The previous Dublin boiler service company had been looking after this particular boiler for the past 5 years. Needless to say, they will not be looking after this boiler anymore. This family are lucky to be alive considering the condition the boiler had been left in. Shocking!
A toilet repair in Dundrum Dublin 14
This was a simple fix. Whenever the toilet was flushed water leaked from the fitting that connects the toilet to the soil pipe (called a multiwick). The toilet was at a 45-degree angle from the wall so a flexible multiwick was used. Sometimes you can be lucky enough that the fitting can be easily slipped off and removed but not in this case. The toilet had to be taken out and refitted in order to get the old multiwick off and the new the one installed. Luckily though there was an isolator valve installed on the toilet so we didn't have to go searching for shut off valves in the hot press or drain town storage tanks. It worked out easy enough to sort out in the end.
A power shower in Rathgar Dublin 6
There is a new Triton T90 electric shower on the market now called the Triton T90sr. Its much more quiet when running than the older models. So when your electric shower no longer works and needs to be replaced, replace it with the newer quiet run shower. We have installed a good few of them now and have had no issues with them so far.
A dripping tap in a factory in Blanchardstown Dublin 15

This tap was installed in the canteen of a factory with about 20 lads working there. It was only there a couple of years before it broke and wouldn't turn off. The only way to stop the water from flowing full blast was to tie the lever back with a cable tie. Obviously, that was only a temporary solution. A new robust kitchen sink lever tap was installed in its place. One that will better take the use it will endure.
A waste disposal unit in Ballsbridge Dublin 4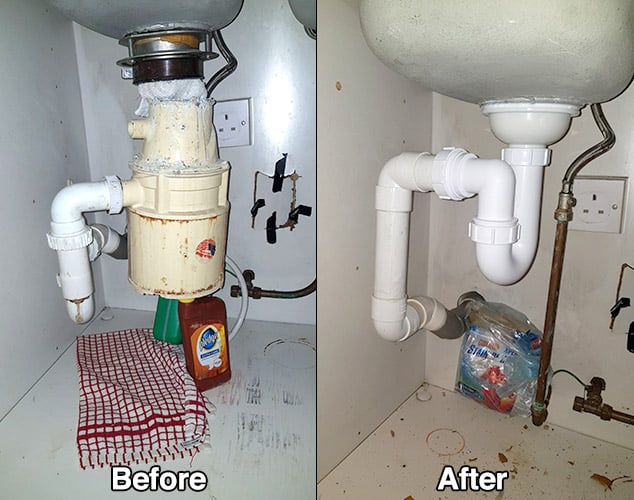 I think in the past 25 years I have installed only a few waste disposal units but removed dozens. This is one that hadn't been used in years, it eventually corroded and broke away from the sink rendering the sink useless. Because the unit hadn't been used for so long the customer was happy to get rid of it completely and replace it with a standard p-trap. When removing waste disposal units the sink waste connection has to be removed as well, this can be a fiddly little job at times. When the original kitchen sink waste is removed it is replaced with whats called a basket strainer waste, this is what the p-trap is connected to underneath. The area under the sink now looks a lot neater and no more bad smells are coming from the sink.
Pipework repair on a pressurised hot water cylinder in Malahide County Dublin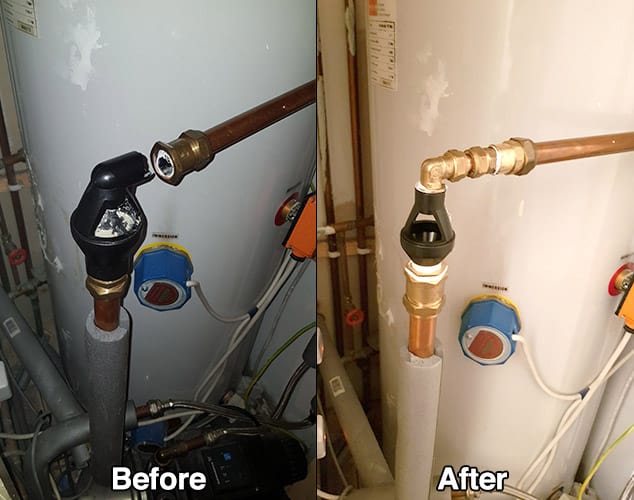 Pressurised hot water cylinders or unvented cylinders as they are also called require a pressure and temperature release valve (P & T valve). These valves are normally factory set to release at 6 bar pressure and above. The pressure and temperature release valve must be piped with copper pipe to the outside atmosphere or internal overflow pipework. The copper pipe run must have an air gap, this air gap is created with the use of a plastic tundish.
Tundishes are most commonly installed within unvented hot water systems in order to act as a safety device for both pressure and temperature relief valves. Water flowing through the tundish is an indication of a fault with the system and alerts the occupants of the building to the fault in order to seek professional assistance as they will be able to see and hear water flowing through the tundish.
In this case, the tundish had broken off the copper pipework. The P & T valve wasn't releasing any water so the only thing that required attention was the tundish. The original tundish seemed to be under a bit of strain from substandard installation so a slight adjustment had to be made to the pipework in order for the new tundish to fit comfortably in position.
A stuck wash hand basin waste in Stoneybatter Dublin 7
The plug hole in this wash hand basin was fitted with a spring-loaded waste system. A handy little system and very common these days. Also called a click clack waste you push it down and it closes, you push it down again and it pops back up and drains out the water. The only disadvantage is that you have to put your hand into the dirty water to let the used water out.
This click clack waste set had stuck in the closed position. A plunger was used to try to suck it open but that didn't work. Then the waste pipework underneath was disconnected and a hammer and screwdriver were used to try to force the waste plug upwards but that didn't work either. There was also a real risk of inadvertently cracking the wash hand basin.
The only option left was to replace it altogether, so brand-new click clack waste was installed and should work without issue long into the future.
A lot of our work comes from word of mouth and repeat business. A lot more comes from online searches. for example – gas boiler repair Walkinstown, plumber Dundrum, plumbers in Dublin 6, plumber Dublin 15, Dublin 4 plumber, plumber Malahide and plumbers Dublin 7.