Blocked Kitchen Sink?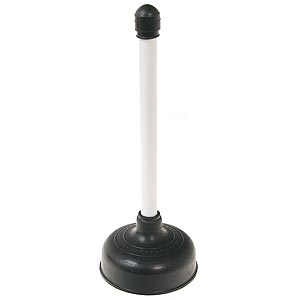 Clogged kitchen sinks are a common call for any plumber. What a lot of people don't know is that there are many instances of a blocked or slow drain that can be quickly resolved without the intervention of a professional.
Whenever possible, avoid using harsh solvents or drain cleaners to resolve a blocked drain. Many of these chemicals have the potential to wear and damage your pipes over time, as well as serving as a health hazard for families with children. The following are my tips for anyone looking to resolve a common blocked kitchen sink with a household plunger.
Remove any visible debris from the drain that can be removed by hand, such as stray bits of food. Kitchen gloves are advised for any messy job.
If you have a second drain opening, overflow or double sink, make sure these are sealed tightly. Use a rag or a stopper, held down by a second individual if necessary. Without an airtight seal, there won't be enough suction to push out the blockage and you risk an extra-messy plumbing job as the water is forced back out of the drain.
Create a strong seal between the plunger head and the drain. This can be done with at least 10 centimetres of water in the sink to create an airtight seal, or petroleum jelly around the rim of the plunger.
Plunge straight and vertical, forcing water down into the drain. Angling the plunger can be an easy way to accidentally break your seal, and may prevent you from using the proper force needed. Rapidly pump several times in succession to clear the blockage. On the final stroke, pop the plunger free of the sink for extra pressure. If successful, any water in the sink should move down the drain.
Repeat the process as necessary to resolve the blockage. Don't become discouraged if things don't work right away. Often, several sessions are required for stubborn blockages.
If using the plunger does not clear your pipes, or if clogging continues, there may be a larger issue in need of professional assistance.
Additional Tips
Whenever possible, pour cooking grease into an old jar or container. When it solidifies, throw it in the bin. Washing pots and pans with high contents of fat or oil is a certain way to block any sink eventually.
Run hot water down your sink after each use. This will keep any stray oil or fat from building up on your pipes. Additionally, this will keep stray bits of food and other material moving along.
Keep a separate plunger for your bathroom. While this is a good strategy for hygienic purposes, there are separate varieties of plungers designed to perform with sink drains and toilets.
If you have any questions or comments on this post about our 24-hour service, or any other post on the Dublin Plumber Blog, give us a call on 01 675 0941.